The Old town of Valencia, Spain, originally called "Ciutat Vella" used to be a fief where Romans resided, delimited by a great wall in the XIV century.
Travelling through the charming streets of district 0 feels like going back in time to the Middle Ages: traditions and history can be smelled in every corner. 
History, gastronomy, art and culture can all be enjoyed throughout Ciutat Vella. We will guide you through your trip and suggest what to see in Valencia Old Town: from historic monuments to great museums and beautiful streets. 
Historic squares and monuments in Valencia old town
Most historic monuments are located in El Carmen neighborhood, and they are all very close to one another. Try to plan your trip so you can visit the closest building after the other. 
La Calle de los Caballeros is the central axis of El Carmen since this is where the old Valencian aristocracy used to live. We encourage you to travel through this beautiful street while visiting the various buildings suggested in our following list. 
The street starts in Ayuntamiento de Valencia, and finishes before Plaza del Conde de Buñol. These are a few of the treasures you should look for: 
La Plaza del Ayuntamiento
La Plaza del Ayuntamiento is the main square of Valencia city. The whole space is 6000 square meters and derives its name from the town hall building El Ayuntamiento.
Besides from its beautiful buildings, the square is famous for its flower stalls as well as its color changing fountain, which is illuminated every night. 
Marques de Dos Aguas Palace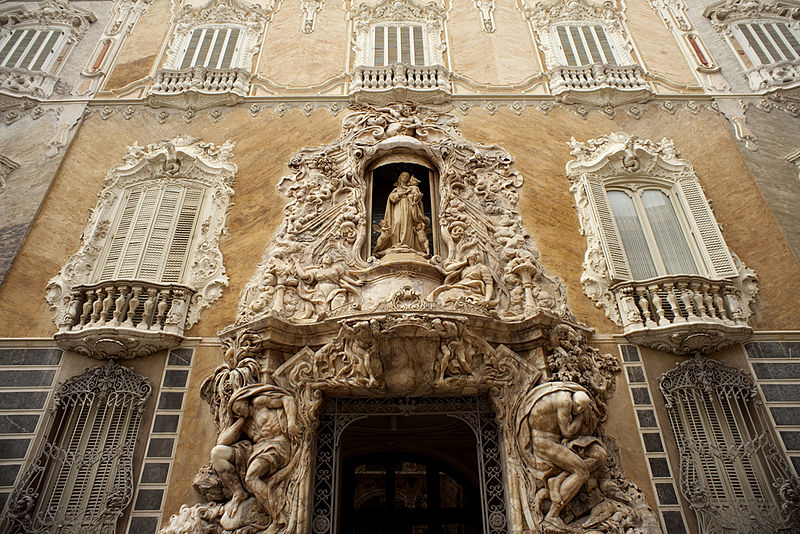 A six-minute walk from Plaza del Ayuntamiento, or just a two-minute bike ride will get you to this magnificent  building that used to belong to Marquises of Dos Aguas. The romantic architecture will strike you with its beauty.
Nowadays, the building is owned by the state and became the National Museum of Ceramics and Sanctuary Arts.
Two minutes later you will find Plaza de la Reina. If you would like to try Valencia's famous Horchata, the perfect choice is a traditional restaurant called "Santa Catalina" around the square. 
Plaza de la Virgen 
Right after Plaza de la Reina, you will find Plaza de la Virgen. This historic square in Valencia is home to three religious monuments of Gothic style, one next to the other: Valencia Cathedral, Basílica de la Virgen de los Desamparados, and Miguelete. 
We encourage you to walk up the 207 steps to the Miguelete tower, which is the bell tower of the Valencian Cathedral. It is a worthwhile experience: a panoramic city view of Valencia will be waiting for you at the top of the tower.
Valencia Central Market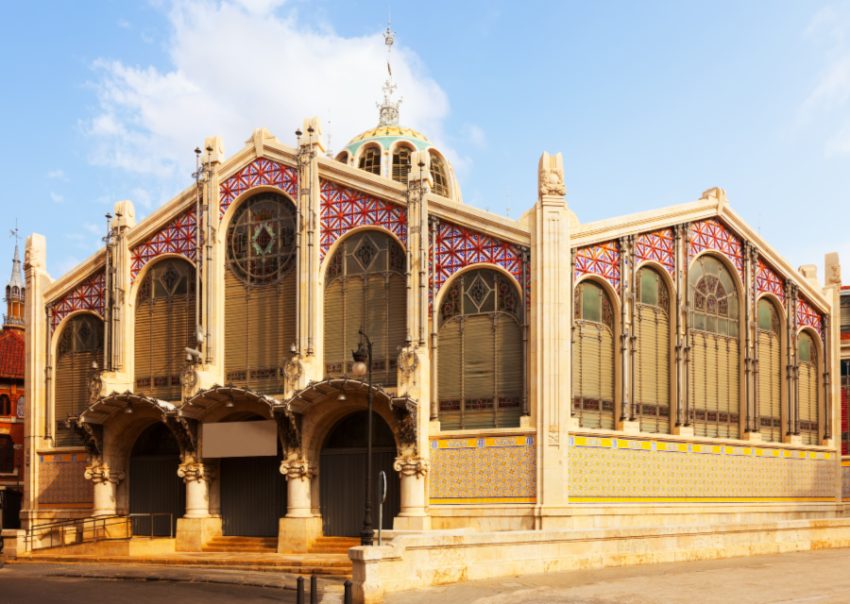 A few minutes later you will find the Valencian city market: a masterpiece of Valencian modernism and one of the most popular places to visit in Valencia Old Town. This spectacular bazaar has 1200 stalls where all kinds of excellent quality food are sold such as meet, fish, spices, vegetables, and fruits. The market represents a significant supply for both homes, restaurants and tourists. You can also eat inside the market's delicious bar-restaurants.
Shopping in this place is a lovely experience for the beauty of its architecture, the variety and freshness of its products and the tradition and history of the market. We suggest going inside, even if it is just to appreciate its beauty.
Silk exchange – La Lonja
The Silk exchange, in spanish "La Lonja de la Seda" is just next to the Central Market. 
The monument used to serve as a centre of commercial transactions during the Middle Ages and is now a Unesco World Heritage. 
This masterpiece of gothic architecture is composed of a beautiful outside garden, the "Taula de Canvis", a small chapel and even an old jail for merchant defaulters in the top floors. You will be amazed by the unique architecture inside: this one of the most enchanting places to see in Valencia old town.
Serrano Towers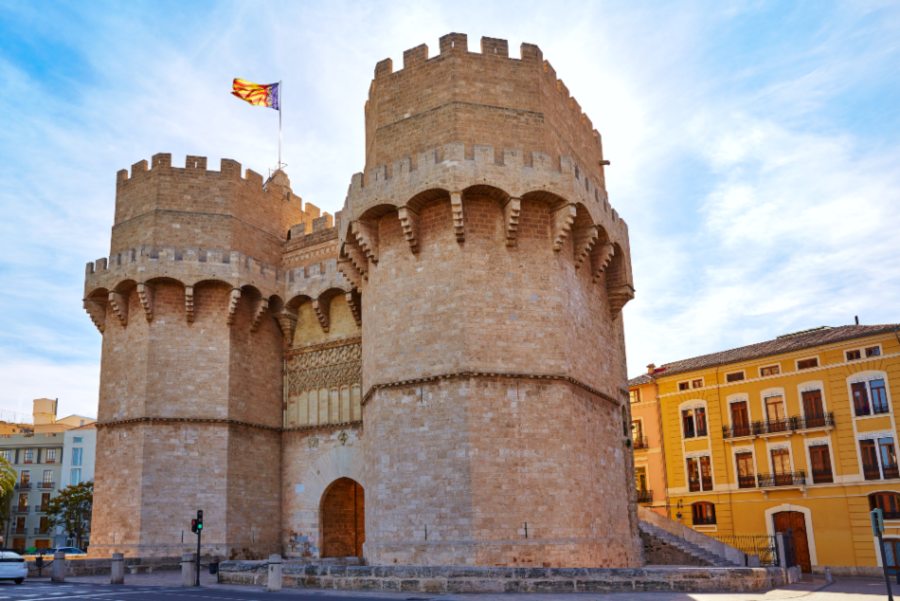 A two-minute bike ride away you will find The Serrano Towers. These are a few of the parts that still remained after the wall was demolished in the XIV century.  
As it was the main entrance to the city of Valencia, ceremonies and official entry of royalty members occurred in the Serrano Towers. Its main use during medieval times, was as a defense mechanism of any siege or sudden attack to the city. 
Nowadays, it is allowed to enter the towers and climb the stairs to the top. The entrance is also used for events such as "La Criada" during Fallas celebrations.
¿What else to see in Valencia old town? 
Besides from the historic monuments, beautiful streets full of life, delicious restaurants, interesting museums, and multiple shopping stores abound the old district of the city.
Museums
In Ciutat Vella only, there are tens of museums ranging from contemporary to classical art, history, technology, ceramics, you name it! Some of the popular ones are the IVAM, MuVIM, CCCC and The National Museum of Ceramics and Sanctuary Arts. Use your bike to get to your chosen museum.
Nightlife
El Carmen is the popular neighborhood for social gatherings in Ciutat Vella. If you are looking for nightlife activities this is the place to go. Xerea neighborhood, is also a great option for eating out. 
Shopping
On the other hand, If you are in the mood for shopping -or if window shopping is one of your pastimes- The areas of Paz, Poeta Querol, Bolsería, Plaza del Tossal and Calle Quart are some of our suggestions. Even just biking through the streets is wonderful. 
After going through our quick guide, we hope you do not miss the best places to see in Valencia Old Town. You can rent a bike and use it to ride in some streets in the district and move between places that are further away from each other. 
There is no doubt the historic district is one of the best bike tours in Valencia. So go ahead and enjoy your trip!